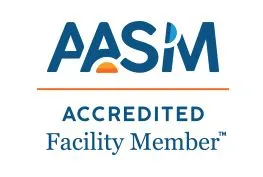 Mission Statement
The Village Sleep Lab provides state-of-the-art evaluation and treatment of sleep disorders in a caring environment in order to improve the quality of life of the community that we serve.
The center also provides educational opportunities for patients, support groups, physicians, health providers, and the community to increase awareness of sleep disorders and their diagnosis and management.
Goals & Objectives
The Village Sleep Lab strives to provide the highest quality medical care. We have a sleep center that is fully accredited by the American Academy of Sleep Medicine; we have a medical director who is Board Certified in Sleep Medicine, and we have a technical director and polysomnography technologists who are registered by the American Association of Sleep Technologists.
We believe that health care providers should take the time to listen intently to what patients say about the nature of their problems as well as their expectations for diagnosis and treatment. This process helps to create effective communication and teamwork between patient and provider.
The staff of the Village Sleep Lab actively participates in community activities and provides up-to-date knowledge to the public about sleep disorders and their crucial interaction with cardiac, pulmonary, psychiatric, endocrine, and neurological diseases.
También hablamos español y le proveemos servicios a la comunidad hispana.
Medical Director of The Village Sleep Lab Accredited by the American Academy of Sleep Medicine

Dr. Albino has been in practice for more than 30 years and formerly held positions as Associate Medical Director and Chief of Adult Medicine in Southboro, Massachusetts. His academic titles have included Assistant Professor of Medicine at New Jersey Medical School and Instructor of Medicine at Harvard Medical School and at Columbia University. He has also published several articles on pulmonary problems.

Medical Education:
Harvard Medical School, MD
Harvard School of Public Health, MPH
Boston, MA
Internship & Residency:
Internal Medicine, Montefiore Hospital
Albert Einstein College of Medicine
Bronx, NY

Fellowship:
Pulmonary & Critical Care Medicine
Columbia University
New York, NY
Board Certified:
Sleep Medicine
Pulmonary & Critical Care

Dr. Albino is a Fellow of the American College of Chest Physicians, and is a member of the American Academy of Sleep Medicine, the American Thoracic Society, the Florida Thoracic Society, and the Florida Medical Association. He has served on the local Board of Directors of the American Cancer Society and the American Lung Association.

Dr. Albino states: 'Serving others has always been a privilege that gives me great satisfaction, and sleep medicine is unique as it can make a tremendous impact on patients' lives and that of their bed partners. Medicine is a deep commitment that I live up to every day. In my practice, I continually strive to be up-to-date and to provide the highest quality medical care. My goal - and I ask it of my staff as well - is to always listen to our patients. It is by careful listening that I actually make a diagnosis, and then I treat the patient by keeping their goals in mind. If we skip this all important step of listening, nothing else can make up for it.'

LPN, Sleep and Pulmonary Nurse, The Village Sleep Lab

My name is Miyoshi Scott. I am the pulmonary/sleep nurse for Dr. Juan Albino. I have worked here for more than fourteen years. I enjoy the patient contact and the patient feedback, and I just really enjoy working with Dr. Albino.

Registered Sleep Technologist, The Village Sleep Lab

Greetings! My name is William Truitt. I am a registered sleep technologist with more than ten years of experience, and I am the current lead technologist at The Village Sleep Lab. Helping patients navigate through the process of a sleep study and its intricacies is a passion of mine. I will do all that I can to make your time spent here enjoyable and informative.